South Africa: Hands-on for the 'Helping with hands' project
No ordinary working days for some of the employees of Barenbrug South Africa. Lately, they got the opportunity to spend some time with children and their future teachers, in order to execute the 'Helping with hands' project. This is the first initiative of the "helping with hands" project and hopefully this gives a good inspiration for others to follow.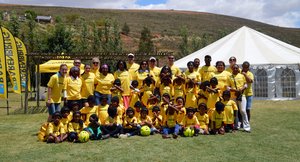 The aim of the project was to prepare the children for theirfirst year at school by giving them necessary school supplies and doing educational activities. However, this was not only inspiring for just the children. "For me personally and also for the team it was quite an eye opener and a wonderful experience", says Paul Marais (Managing Director South Africa).
But why spending one nice day, when you can spend two? The initiators Lerisma and Nicole must have thought this, when it comes to such a good project. Therefore, the project took place both Saturday and Sunday.
It all started by giving the children school supplies as a backpack, lunch box and a water bottle. But they also wanted to support the creative minds by handing pencil bags and crayons. Besides, children should not suffer a cold, a beanie and a blanket were therefore necessary. The children were thrilled, a nice way to start the weekend!
Furthermore, the children could participate in various activities.

It was possible to enjoy a tractor ride, to feed a sheep and even to pick a cauliflower which was sent home with the parents. We may conclude that South Africa is a number of farmers richer!
Besides the activities there was also more than enough food, as befits such a party. They even barbequed a sheep on the spit. At last, they asked some of the children what stood out. More than one said it was the first time sleeping in a tent!
We would like to congratulate Barenbrug South Africa with this successful project and hopefully this inspires other companies to follow this great initiative.