Barenbrug's forage varieties dominate official lists in Europe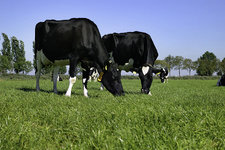 Every time an official variety list is published, excitement mounts. Although we have confidence that our intensively tested new varieties will perform well in official trials, it is always good to obtain 'confirmation' from the testing institutes.

In recent years, new Barenbrug varieties have set a new standard in Europe. Our varieties can be found at the top of the official lists in each important segment.
The best example is Perennial ryegrass, which dominates in countries like Germany, Ireland and the Netherlands.

Barpasto, a late tetraploid perennial ryegrass, is the no.1 variety in Germany for total yield and first cut. In Ireland, two late diploids Drumbo and Tyrella are at the top of the recommended list. Our position in the Netherlands is even more overwhelming with Dromara being the no.1 tetraploid and Barimero the no.1 diploid.

The same development can be seen in other species. Our new variety Bardoux is the highest yielding soft leafed tall fescue variety in France. Adremo, a highly palatable cocksfoot variety, has been placed at the top of the French list. In alfalfa, too, where Barenbrug's position is traditionally strong, the new variety Artemis outclasses all the competition.


The story behind this success is that Barenbrug Research implemented new techniques and practices in breeding a long time ago. As breeding is a long-term process, the first results are only starting to appear now, but more is yet to come. We are looking forward to new releases of official variety lists in the coming months.