Congratulations to the Dutch House of Orange by 'Royal Green'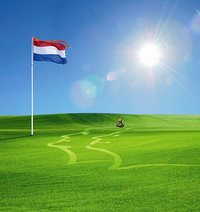 Royal Barenbrug Group congratulates the royal family on the succession to the throneThe royal house has a special place in the hearts of a long-standing Dutch family company like Barenbrug.
When we celebrated our centenary in 2004, the Barenbrug Group was honoured with the Royal designation by Her Majesty Queen Beatrix of Holland.
Together with our customers, we will be delighted to retain our long-term links with the House of Orange under King Willem-Alexander too.
That's why the greenest royally appointed company in the Netherlands will be proudly orange on 30 April 2013.