Grassy lunch with Frank Barenbrug, creative with seeds
'SOS enables us to guarantee more playing time,' says Frank Barenbrug from the eponymous seed company. SOS? 'Yes, Super Over Seeding,' he explains. As if this solved the riddle. To demonstrate the effect of his latest invention, he takes us to the Feyenoord Stadium in Rotterdam. Waiting for us there is Remy de Milde, just 30 and already carrying the heavy responsibility of field manager of De Kuip. A man like him used to be known as a groundsman, often a grumpy old man, usually the only person on the club's payroll.

Remy, on the other hand, is young, enthusiastic and trained as head greenkeeper of a golf course. And if there is anyone who can handle grass and who knows all the secrets of grasses, it is a golf greenkeeper. 'So a football pitch like this is a piece of cake, really. Although you do have an entire stadium and the TV cameras looking down on it. The biggest problem is still how to repair the damage caused by sliding as quickly as possible and how to make sure that the turf is still more or less green and healthy after the winter weather. But that's where SOS comes in.' Remy de Milde is a huge fan of SOS. Thanks to Barenbrugs' SOS, we no longer have to lay new turf in the stadium after the winter.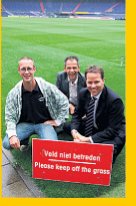 Caption: Barenbrug director Frank Barenbrug (r) with his 'grass-mad' Jan van den Boom and Feyenoord's field manager Remy de Milde (l)

But it's not only Feyenoord that is enthusiastic about SOS: it has also won over the head greenkeeper of the Old Course at St. Andrews, the holy of holies of golf, the groundsman at Manchester City, the world-famous Aintree racecourse where the horses rumble over the course in the notorious Grand National, and even the venerable cricket ground Lord's. Because if there is anywhere that subjects turf to the highest conceivable demands, it's Britain. But many a Dutch campsite, many a prestigious estate, many a public recreation site and many a park can now survive the winter thanks to SOS.

So what is so special about SOS? Barenbrug experimented with it for 15 years. Grown, hybridised and regrown - on Barenbrug's 15,000 test plots in Wolfheze, and in its laboratories where 150 white-coated scientists subject the germinating grass seeds to daily scrutiny. The result: the new SOS grass mixture. SOS grows in the shade, in less light and at low temperatures. And it even germinates faster. So after a couple of winter sowings, the turf is once again perfect in the spring. 'It germinates ultra-fast. The fastest grass in the world.

All over the world people and animals walk, run, play and graze on grass fields sown with Barenbrug seed. From the Bird's Nest Stadium in Beijing, where the last Olympic Games opened, to Wimbledon. Barenbrug is already hard at work developing special grass seed for the football World Cup in South Africa. A good, healthy chunk of Dutch glory.

Nonetheless, Frank Barenbrug is modesty itself, as evidenced at the lunch in the Feyenoord restaurant. A grass appetiser, perhaps? 'No, edible grass - we don't have that yet.' At least not for people. But virtually every meadow is sown with one of his feeder grass varieties. Last year Frank and his brother Bastiaan took over the helm of Royal Barenbrug and its branches all over the world from their father Bert. Bert is the grandson of Josephus Theodorus Barenbrug, who founded the seed company in 1904. Bert has now started playing golf. Recently he played on the Old Course at St. Andrews. So he was able to see for himself how his own seed was doing there.

Son Frank is not such a great sportsman. At least not on grass. He does a bit of diving and shooting and plays a little tennis. 'And the crazy thing is that when I'm watching a match at the football stadium I'm looking at the grass more than the players. Yes, at home I do have a beautiful lawn around the house. A couple of hundred square metres. I mow it myself. With a manual mower. It gives the best result.'

Virtually every garden in the Netherlands has grass from Barenbrug. You can already buy seed in packets with brand names like Park, Pokon, Ecostyle, Intratuin, Gamma or Praxis. They are all supplied by Barenbrug. Artificial grass? 'You mean astro turf? No, that's on the way out, even in football. Although it's a different picture for hockey.'

Not only gardens, meadows and sports fields thrive on seed from Barenbrug. The company also makes a special seed for airports. For Schiphol, for example, where the runways are surrounded by huge grass fields. 'These are special mixes that produce blades that are rough and vertical, so they are less appealing to vermin and insects. So the grass attracts fewer birds.'

And what new grass seed is Barenbrug breeding now? Grass that does not need mowing? 'We already have that. Those are our low maintenance mixtures. One of our innovations.' Purple grass? Red grass? 'We are also experimenting with colours. But what I am still dreaming of is turning the Sahara completely green.'