Innovation Award for RPR® at STMA Show (USA)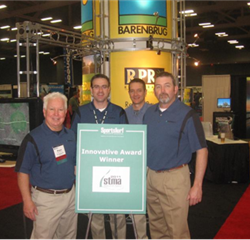 January 15, 2011 (Austin, Texas) Barenbrug's RPR® - Regenerating Perennial Ryegrass® -was recently awarded the prestigious Innovative Award at this years Sports Turf Manager's Conference. Barenbrug's years of research and development were recognized in a ceremony at their booth during the show.
RPR - Regenerating Perennial Ryegrass - is a new perennial ryegrass that produces pseudo stolons and is extremely wear tolerant. RPR comes from Barenbrug USA's breeding program and was specifically bred for the high wear/traffic areas that often cause turf manager's problems.
The Innovation award comes on the heels of another monumental RPR recognition. RPR was recently placed in a genetic category of its own. Although RPR is still recognized as a perennial ryegrass specie, it has been clearly identified as having unique characteristics. RPR is now more than just a perennial ryegrass, it's a Lolium perenne stoloniferum, in other words a regenerating perennial ryegrass. Since 1836, no varieties have been recognized as a Lolium perenne stoloniferum (regular perennial ryegrass is called Lolium perenne).
Since the introduction of RPR, it has been a wide spread success. A number of Sports Turf Managers and Golf Course Superintendents have tried RPR and are very satisfied with it. "We have seen a lot of re-orders from Turf Managers who tried this in the spring," says Christiaan Arends, Barenbrug Turf Product Manager. "We hear a lot of positive feedback from Sports Turf Managers and Golf Course Superintendents. They just love the product."
Dr. Joseph Wipff, Turf Breeder at Barenbrug USA said, "I am very pleased and honored that a product I worked on for so many years has gotten this kind of recognition. When breeding turfgrass varieties, you need to be very patient and it is great when it gets recognized with an award like this."