New strategic grass breeding contract
The Netherlands, 22 July 2009 The new extended contract for strategic grass breeding will further integrate the AFBI and DARD research programme of Loughgall - Northern Ireland with Barenbrug's world-wide breeding programme, providing novel forage grass varieties.

Progress
Barenbrug director Frank Barenbrug states: "When the original contract was signed back in 1991, only one variety, Moy, was commercially available but since then an extensive portfolio of more than 20 varieties have been released that top the performance charts. Forage grasses, bred by AFBI / DARD, have consistently set new standards for grassland productivity over the years."

Changing circumstances
Climate change will place even more challenges on the grass breeding programme. Frank Barenbrug praised the R & D programme: "We are confident that with AFBI and DARD we are well placed to meet these changing circumstances and continue to introduce top-performing material, not only in terms of yield but also with good disease resistance, palatability and digestibility.

Company profile
Royal Barenbrug Group: Family owned global company with the core activities of plant breeding, grass seed production and global marketing of grass seed. With 500 employees and 23 subsidiaries in 13 countries on five continents, Barenbrug is one of the leading grass seed companies in the world for more than 100 years already.

Agri-Food and Biosciences Institute (AFBI): Leading provider of scientific research and services. With their unique breadth of facilities and scientific capability in agriculture, animal health, food, environment, biosciences and economics AFBI conducts a wide range of valuable projects for both the public and private sectors.
Department of Agricultural and Rural Development (DARD): Department to assist the competitive development of the agri-food, fishing and forestry sectors of the Northern Ireland economy, having regard for the need of the consumers, the welfare of animals and the conservation and enhancement of the environment.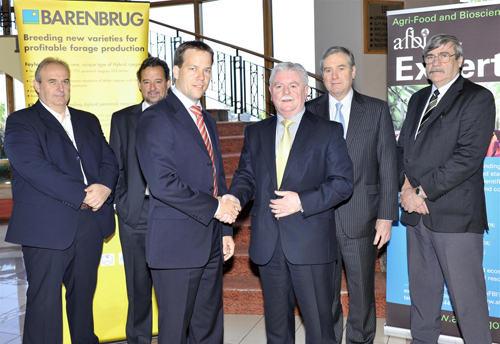 Picture caption: Pictured at the signing ceremony (left to right) Barenbrug UK managing director Paul Johnson, Barenbrug global research director Stefan van der Heijden, Royal Barenbrug Group member of the board, Frank Barenbrug, AFBI chair Seán Hogan, AFBI chief executive Dr George McIlroy and AFBI deputy chief executive Mike Camlin

Note to editors: Royal Barenbrug Group headquarters is based at Stationsstraat 40, 6679 AD, Oosterhout- Nijmegen, The Netherlands. Telephone +31 243 488 100, e-mail info@barenbrug.com or visit www.barenbrug.com.

For further press information please contact:
Stefan van der Heijden, global reseach director
Telephone. +31 243 488 104
E-mail:svdheijden@barenbrug.com