Agricultural Excellence Award for Barenbrug in Argentina
"Premio a la Excelencia Agropecuaria"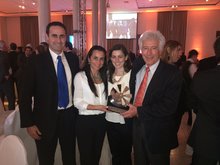 Barenbrug Palaversich was awarded with one of the most significant recognitions among the agricultural activity in Argentina called the "Premio a la Excelencia Agropecuaria" whose translation could be "Agricultural Excellence Award".
There were various categories and among them one called Development & Innovation.

The Co presented itself in this category, with its relevant Innovative Inoculant called BarMax, a unique soyben inoculant with specific strains for each soybean production area.

The highly innovative product is the result of a long research effort conducted under an agreement with a top Research group called IBBM that goes for Molecular Biotechnology and Biology Institute together with the Co Research team. The task meant collecting more than 200 strains from different production areas identifying them via AND, evaluating their Nitrogen fixation capability as compared with the generally used one and finally determining their industrial production capability. All this work yielded only three high performance new specific strains, for three big given production areas: North, South and North West. This areas cover around 80% of the 19 mill hectares planted to soybean.
Results are outstanding as the specific strains yielded 100% more in BNF (Biological Nitrogen Fixation) than the ones currently used by competitors.
Barenbrug Palaversich has seen Bar Max Inoculants sales grow significantly and we do have great confidence that the Co we will continue growing in this very competitive market by the hand of excellent products backed by research and innovation.