Appointment Global Research Director
As per 1 September 2015, Mr Piet Arts will be appointed Global Research Director of Barenbrug Holding BV. He will be responsible for coordinating Barenbrug's research and breeding activities worldwide. In this position, Mr Arts will maintain all contacts with existing and potential partners and research technology providers relative to the Royal Barenbrug Group's breeding activities.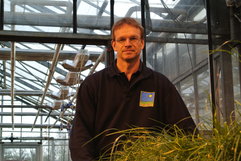 Mr Arts (52) has been with Barenbrug for almost ten years, in which he was active as a plant breeder and manager of the Dutch research station. This experience, combined with his background in corn breeding, provides Mr Arts with excellent credentials to fulfil this important position within the Royal Barenbrug Group.
Research and breeding are strong focus points of the Royal Barenbrug Group, and as such play a crucial role in Barenbrug's mission to create local, sustainable products with added value for end-users worldwide.