Barenbrug awarded Best Managed Company 2013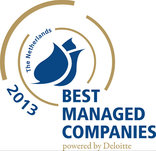 This year, grass seed company Barenbrug has been ranked among the best managed companies in the Netherlands in the medium-sized and large companies category. The company was praised by the jury for being innovative, having a well-balanced organisation, its international character in combination with diverse partnerships, showing strong growth and its healthy financial position, even in challenging economic times.
Balanced strategy
Barenbrug's growth was considered to be impressive. The company is balanced at a high level as a result of implementing its long-term strategy. This strategy was established with the involvement of all country managers and adapted in each region to suit the specific local market circumstances. This has resulted in high ownership of the strategy by local managers and a positive contribution from each department in realising the set goals. The innovative R&D and the highly committed staff have paid a particular contribution to the company's success.
International
Barenbrug is a key player in its sector thanks to its international character. The company has a wide global network with partnerships and alliances on all continents. The collaborations vary from a strategic American partner to numerous universities and institutes worldwide. These connections enrich the supply of knowledge and technology for Barenbrug and form one of the pillars for the desired long term continuity.
Continuity
The company was founded more than 100 years ago and has even earned the designation Royal. This underlines the company's stability and continuity. Per today, it is a financially healthy company which even witnessed growth during challenging economic times. Its long-term company philosophy and strategy, in combination with a growing focus on Corporate Social Responsibility, have ensured Barenbrug's future for many years to come.

Jury
The qualification is part of the 'Best Managed Companies' program organised by Deloitte in cooperation with the ING Bank, employers' organisation VNO-NCW and TiasNimbas Business School. To qualify, aspects including the strategy and policy making, organisation and processes and results of the company were assessed. A national jury eventually chose the companies that may call themselves ´Best Managed Company´ for one year.