Barenbrug do Brasil official opening
Ribeirão Preto city (Brazil), Nijmegen (The Netherlands,) April 16th
The recently formed global strategic relationship between the Royal Barenbrug Group and Dow AgroSciences has led to the official opening of Barenbrug do Brasil. The new company in Guiara specializes in plant breeding, seed production and processing of pasture seeds, including Brachiaria hybrids and forage legumes, for the Brazilian market. With the most modern and advanced seed processing and coating line in Latin America, Barenbrug will focus on high-quality seed. Barenbrug do Brasil's grass breeding facilities will concentrate on producing a top-quality portfolio of tropical and temperate grasses.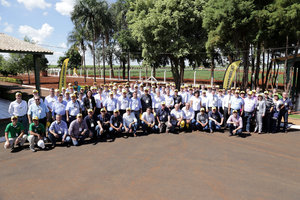 Synergy
"This high-tech plant will give a new dimension to the forage grass seed business in Brazil with its focus on high-quality seed and genetics, creating added value for Brazilian farmers," said Frank Barenbrug, Member of the Board of Directors of Royal Barenbrug Group. Dow AgroSciences Global Business Leader Bill Root explained why they have chosen to work together with Barenbrug : "It is a great opportunity for us to leverage our production of Brachiaria hybrids seed with Barenbrug's high-precision technology and expertise."
Official opening
Together with strategic partner Dow AgroSciences, more than 100 visitors attended the official opening of Barenbrug do Brasil. Important distributors, top farmers, consultants and official Brazilian research institutes like Embrapa attended this special event, at which integrated solutions for animal production involving pasture management and expertise were presented.
Barenbrug do Brasil
Managing Director Rudi den Hartog introduced the well-known yellow Barenbrug seed bag to the audience and explained Barenbrug's aim to launch a complete portfolio of tropical and temperate grasses and forage legumes on the Brazilian market. In addition, the imposing coating line for seed enhancement – the largest fully-automated coating line in Latin America – will guarantee outstanding seed quality for diverse sowing conditions. "As a dedicated team of 30 specialist grass seedsmen and women, we are proud to introduce this new technology for top-quality pasture seeds onto the Brazilian market," Rudi den Hartog said.