Barenbrug grass and Cruijff will take Mexican football club to the top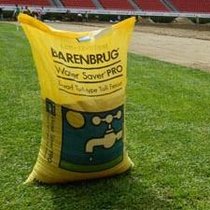 Making the Mexican 'Chivas' the best football club in the world: that was Johan Cruijff's main challenge as advisor of the club. The facilities need to be good and that is why Cruijff insisted that the artificial grass was replaced by natural grass: Barenbrug grass.
Changing to natural grass was one of the first aspects that Cruijff wanted to take care of in the Guadalajara stadium Estadio Omnilife. Great news for Frank Barenbrug, director of seed company Barenbrug, and Roberto Berentsen, the Barenbrug partner in Mexico. They contacted Cruijff and the football club and six months later the Barenbrug grass field in the Mexican football stadium is a fact.
Naturally better
Cruijff commented on Twitter via his official account: "The football that we want to play functions well with natural grass. We firmly believe that everything which is natural, is better." Frank Barenbrug totally agrees: "The rooting on sport pitches is often a problem. That is why we advised Cruijff to use the grass seed Water Saver. This grass roots down deep which results in a strong grass pitch. Certainly an important aspect in the world of sports. The fact that Water Saver is drought tolerant was another major reason for the Mexican football club to choose Barenbrug grass for their pitch.
Prominent role
The Mexicans are clearly very enthusiastic about the Dutch initiative. "We consider the unlimited help for renovating the pitch as high class, within as well as outside the club", Spanish newspaper La Noticia reported. "Guadalajara has now built up a more prominent role in both the Mexican league and in the rest of world". The perfect start for Cruijff to take 'his' Chivas to the top of football.