Barenbrug grass for Euro 2012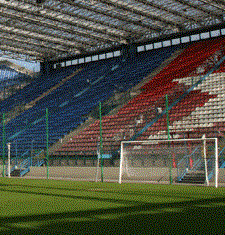 Barenbrug was once again well represented during the latest edition of the European football championship in Poland and Ukraine. The Dutch company's grass was used both on the base camps and in the stadiums in order to get the right quality.

Opening match on Barenbrug grass
The first match of the tournament, between co-hosting country Poland and Greece, was played on a one hundred per cent Barenbrug field. Just weeks before the tournament the field was put in by a renowned Dutch sod specialist who uses only Barenbrug varieties. Thanks to the high quality sod it was possible to create a field that lived up to the highest UEFA standards.
Overseeding
Besides creating an entirely new field, several fields got an overseeding treatment with Barenbrug grass seeds. These treatments meant that the sports pitches of various stadiums have been brought up to UEFA standards. What mixture to use depended on the circumstances, which meant that the mixtures SOS, Speedy Green and RPR were used. The last mixture is one of Barenbrug's latest innovations; Regenerating Perennial Ryegrass. After winning the innovation prize with RPR it is now time for the world's most famous football teams to win on RPR.