Barenbrug supplies Olympics London 2012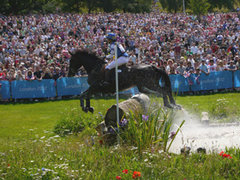 STRI project team transforms Greenwich Park for Olympics. London's oldest park was transformed into a world class sports venue for the London 2012 equestrian and modern pentathlon competitions by STRI, (Sports Turf Research Institute) a world leader in building and managing sports surfaces.
To undertake one of its most ambitious and challenging projects at the 140 acre Greenwich Park site, encompassing over 11,500 hours of maintenance, STRI engaged a number of partners to deliver the works required.
Barenbrug supplied Bar Sprint grass seed, Everris provided several specialist fertilisers, Syngenta supplied plant growth regulators, Farmura provided the wetting agents with up to 300,000 litres of water being applied to the course on a daily basis, and Toro mowers were used over the 5.7km track designed by Sue Benson.
Contracted by LOCOG, the job started in 2009 for the internationally renowned STRI who won the contract to manage the project and deliver the venue in the park which contains Roman antiquity and rare acid grassland.
The work over two years encompassing seeding, aerating and watering of the dedicated jumping track was led by Lee Penrose, Project Manager at STRI. In order to assist surface drainage without long term impact on the sensitive nature of the park, more than 100 million holes were drilled to prepare the course.
In conjunction with the companies STRI employed to deliver the project, the course was closely monitored every day in the lead up to the Games testing for strength and moisture content to ensure an optimum surface would be in place.
Following on from the widely acclaimed event, STRI will continue to work with Everris, Barenbrug, Farmura, Syngenta and Toro on site until the end of 2015 to implement a comprehensive legacy programme for the park's one million visitors a year to enjoy. This will include creation of over 2ha of acid grassland habitat and protection of the newly created lawns.
Commenting on the work, Lee Penrose from STRI said: "Greenwich Park has proven a unique challenge in terms of both the sheer scale as well as the sensitivities of operating within London's oldest royal park with huge historical significance.
"Working on a project of this magnitude requires not just the full focus of the STRI team but also the full support of suppliers. The companies we selected to work with us at Greenwich demonstrated both commitment and flexibility to ensure the project was a success and helped us to deliver one of the best cross-country courses in the world for the Olympics.
Princess Haya, President of the International Equestrian Federation (FEI) said: "The London 2012 equestrian events were really incredible and Greenwich was a wonderful venue. These were the best Games ever for equestrian sport."
Lee Penrose adds: "It is now imperative the park is completely restored and improved post Games. In conjunction with our suppliers, STRI is committed to the sporting legacy of this project that will enable it to be enjoyed by millions of visitors for years to come."