Dromara variety hits all the right notes in the Netherlands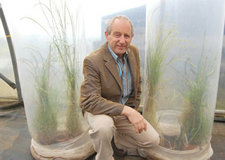 AFBI's David Johnston has confirmed that the grass variety Dromara, bred at Loughgall as part of the ongoing AFBI/Barenbrug grass breeding programme, has been added to the Dutch Recommended List for 2013. It is a new, late tetraploid perennial ryegrass variety.
He continued: "This is the first time that a Northern Ireland bred forage grass variety has been added to the Dutch list. This opens up new markets for our grass breeding programmes, especially in the Benelux countries.
"Dromara sets a new high standard for resistance to rust disease, which is a very important attribute in the Netherlands. Excellent spring growth with high total yields of quality herbage are other important characteristics of Dromara."
David Johnston concluded: "With spiralling animal feed costs the value of high quality forage grasses is increasingly appreciated by Dutch farmers and this will drive a strong commercial demand for Dromara."