Family Business Award 2015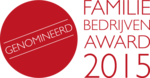 19-12-2014 – We are proud to be able to inform you that Barenbrug has been nominated for the Familiebedrijven (Family Business) Award 2015. Barenbrug is a family business that was established in 1904. Since then, our company name has come to stand for top quality that is highly appreciated by customers large and small all over the world.
The Audit, Advisory and Tax Services company KPMG independently selected businesses for nomination for the award. A professional jury will choose the winning business from among the finalists. The director of the winning family business will join the jury for a period of one year. The businesses were selected on the basis of eight criteria. Barenbrug of course meets all those criteria. The eight criteria concerned are:
Shareholders, Management and Governance
Family and Culture
Continuity (long-term thinking and acting)
Financial achievements (yield and financial structure)
Growth (turnover, yield and workforce)
Internationalisation (active in how many countries?)
Corporate Social Responsibility (role in the community, CSR activities)
Barenbrug has now been nominated along with twelve other family businesses. The professional jury will select the finalists and announce which businesses they are in February. In early March the jury will visit the finalists. On the basis of the results of those visits it will then choose the winner of the Family Business Award 2015 in April. Last year, Mr Rutte, the Dutch Prime Minister, answered many questions relating to the world of family business. So Dutch politics also pay a lot of attention to family businesses.
Innovation (how innovative?, patents, R&D costs, product introductions, etc.)