New genetics available in 2015!
As R&D continues to deliver new innovative products, many varieties have gained positions on recommended lists all over Europe in recent years. In the meantime, seed production has begun and several new varieties will be commercially available for the upcoming sowing season. These will be used to further improve the Barenbrug-branded mixtures all over Europe.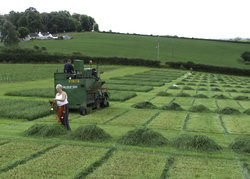 Barenbrug proudly presents these new forage varieties, which are now available:
Bardoux Soft-leaf tall fescue
Originally from the NutriFibre-programme. It's the highest yielding in its class, with improved palatability.
A 'must-have' on every modern farm.
Barcampo Perennial ryegrass - tetraploid
Widely adapted to Western and Central Europe. The No.1 variety in Germany for yield and disease resistance. It will dominate the European grasslands.
Bargizmo Perennial ryegrass - diploid
A variety with an excellent all-round performance, both in continental and oceanic climates. It has proven outstanding persistency under harsh conditions.
Bartasja Perennial ryegrass - tetraploid
Originally from our breeding programme in Eastern Europe. This modern continental variety will be a successful addition to the Green Spirit mixtures.
Bartrento Italian ryegrass - tetraploid – late-heading
The variety that outclassed all the standards in yield and performance during official German trials. Its excellent disease resistance and forage quality will ensure "production + palatability".
Barlegro Cocksfoot - late-heading
Listed in Germany, Switzerland and Romania. This variety shows its great adaptation to hot and dry summers as well as to long, cold winters.
Calimero White clover
A very persistent variety. It has been shown to form perfect ground cover and maintain its role in pasture productivity, year after year.
Bardine Lucerne
Especially suitable for intensive cutting fields in Central and Eastern Europe. It has shown excellent yield and feed quality in trials in Romania, Poland and Russia.