Sustainable management of golf greens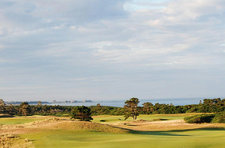 The golf sector in Europe is under pressure from local, national and international legislation and public demand to manage golf courses in a more sustainable manner.

Sustainable means reducing the amount of pesticides, water and fertilizer used. Restrictions may vary from one country to another, but the EU has produced a number of environmental directives that will eventually affect all European countries.
Recent research projects and even more importantly, practical experience suggest that red fescue (Festuca rubra) is a very good turf grass species for sustainable and integrated pest management on golf greens exposed to an Atlantic climate.
On 10th and 11th October 2012 a 'Red Fescue workshop' was organised in and around Copenhagen. The aim was to exchange and strengthen knowledge on the use of red fescue on golf greens. A group with international green keepers visited fully seeded red fescue golf courses at Vallø, Furesø and Smørum. All of the participants witnessed golf courses that are maintained with care and overseeded with the best red fescues such as Barcrown, Viktorka and Bargreen.
Overseeding is an important cultural practice on red fescue golf greens. Without mixtures like Bar Fescue and the new Bar Fescue Plus (Hardtop, hard fescue inside) sustainable management of red fescue golf greens would not be possible! The courses were great examples of how well our red fescues are doing in promoting sustainable management.