The importance of knowledge transfer via new media
The development, production and sale of grass seeds are - and remain - Barenbrug's focus. But innovation and knowledge are extremely important too. The company recognises the importance of new media and for that reason has developed two apps: one for agriculture and one for the recreation sector. Knowledge is power, and it's important that it reaches the right audience in the right way. These apps are a convenient way of organising knowledge transfer.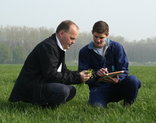 Content of the apps
The apps enable the user to outline an objective technical assessment of turf quality. This allows him or her to report the status of the turf, and subsequently to obtain advice on the best action to take and the best product to use. The app also gives useful information on various grasses, weeds, dryness and dampness, damage to the turf, etc.
Target group
It is important that knowledge transfer benefits everyone. Information must be provided in a way that benefits the target group. The 'Grassland App' is designed for dairy farmers, consultants and agricultural grassland contractors. The 'Barenbrug Sidekick' app is designed for golf course greenkeepers and sports field managers.
Benefits of the apps
The biggest advantage for the end user is that they always have the latest information to hand. In addition the apps can be used both online or off, so you can consult them anywhere, any time. Barenbrug believes it is important to share knowledge with anyone who needs it. That's why the apps are free to download. iOS users can find their version in the App Store, and the Android version is available in the Play Store.
Download now:

The Grassland App on coarse fodder for dairy cattle. Available in the App Store/Play Store or go to Graslandapp.nl.

Barenbrug Sidekick for golf courses and sports fields. Available in the App Store/Play Store or go to Barenbrug.nl/sidekick.